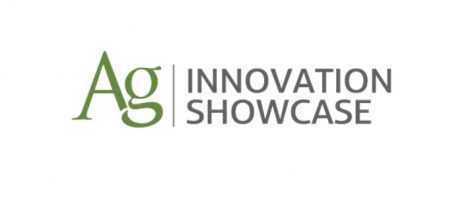 On May 8 and 9, the inaugural Ag Innovation Showcase at UC Davis took the UC Davis Conference Center and the Twittersphere like a fast growing vine. We've condensed the conversation for you in the #17AIS tweets below for your experience and convenience.
Day 1
Opening Remarks
The 2017 Ag Innovation Showcase at UC Davis was kicked off with opening remarks from Larta Institute's CEO, Rohit Shukla, and Julie Morris from the UC Davis World Food Center.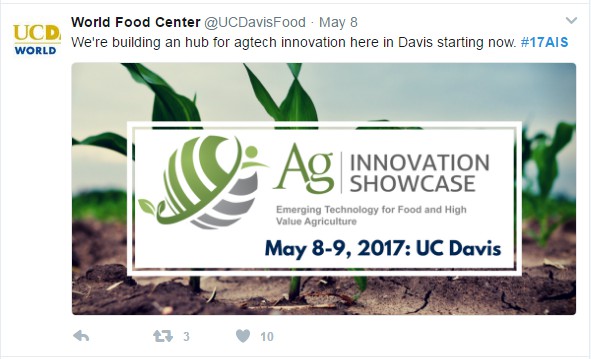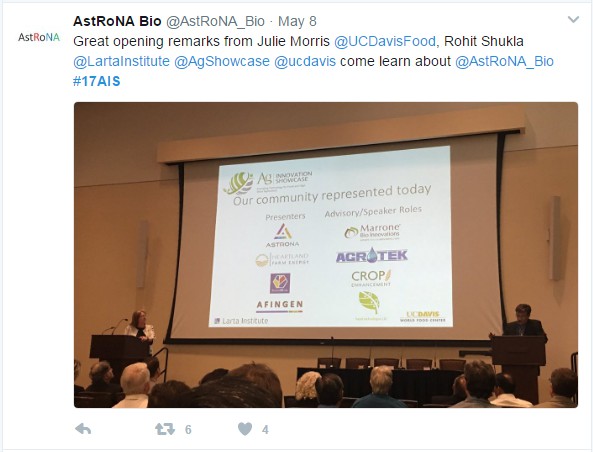 Keynote Address: Vivek Ranadive, Sacramento Kings and Bow Capital
Keynote speaker, Vivek Ranadivé, asserted that we are poised to enter the next era of innovation with our abundance of technology, manpower, knowledge, and data. Investment and big picture know-how are the catalysts for a new wave of innovation.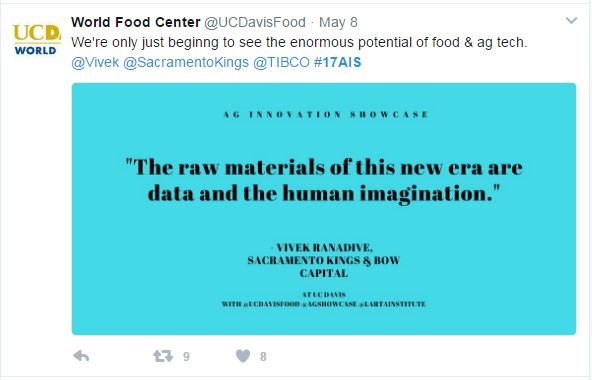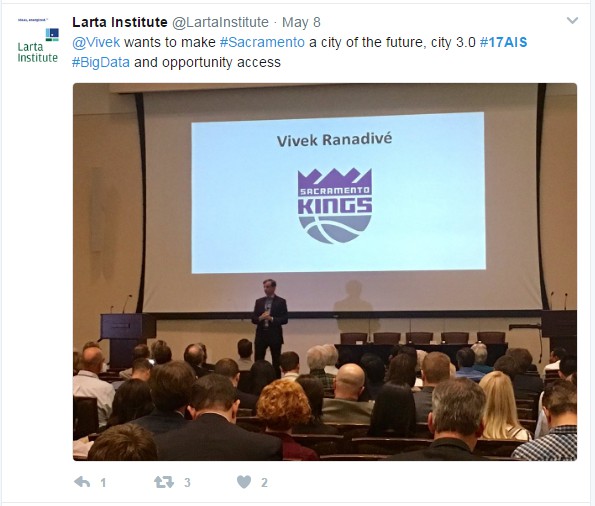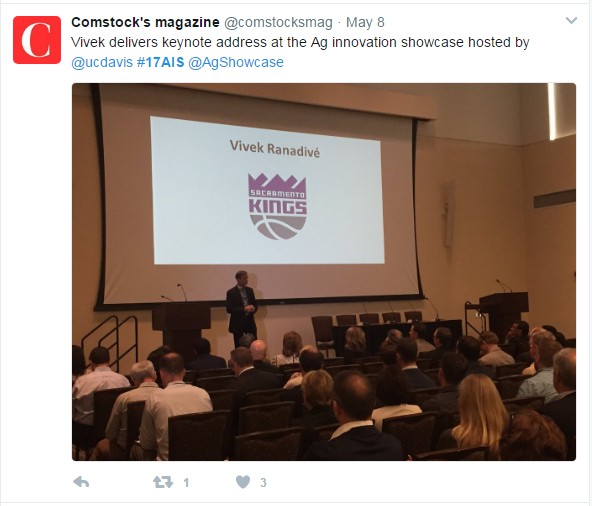 Company Showcase I
The cohort of showcase companies included entrepreneurs in the Animal Health, Farming Innovations, and Food Science sectors. These entrepreneurs exist in three distinct industries, but each company displayed a cross-pollination of technologies—taking innovation that existed in one industry and using it in another.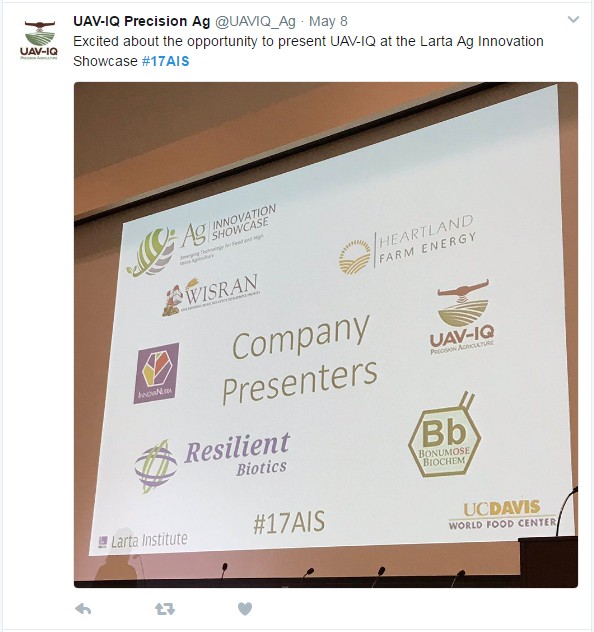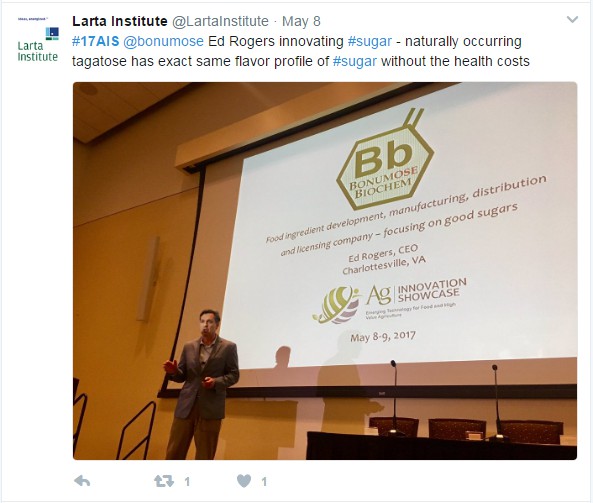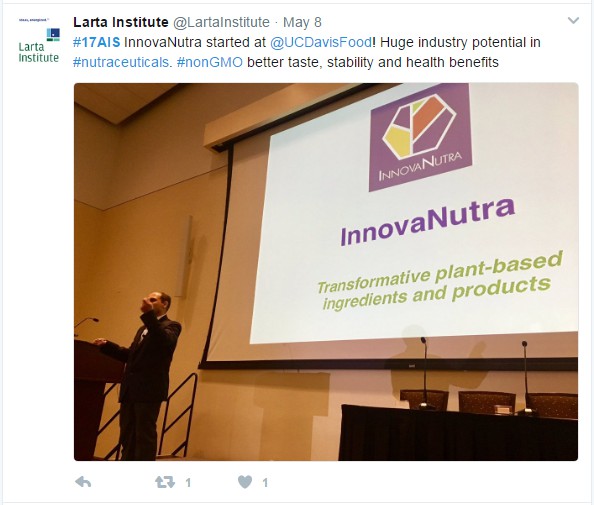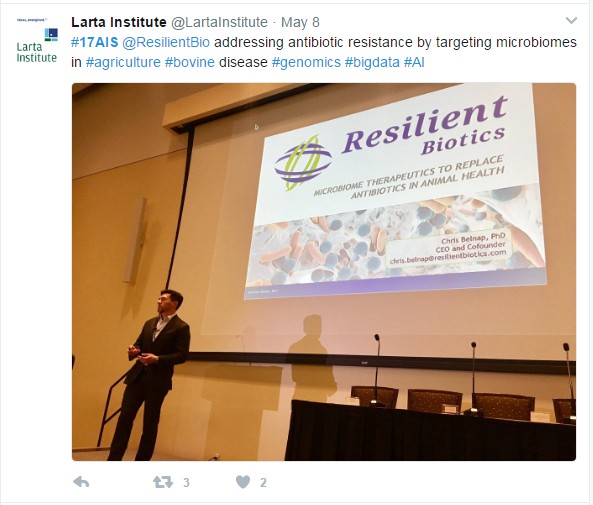 Roundtable Discussions
The Ag Innovation Showcase at UC Davis marked our first go-round of roundtable discussions. We knew our audience was full of investors, entrepreneurs, and others with firsthand knowledge of problems in ag innovation and we wanted to hear what you had to say. Experts in Animal Health, Food and Beverage Processing, Drones and Robotics, and Water Management Innovation engaged our ag community in peer to peer learning and problem-solving.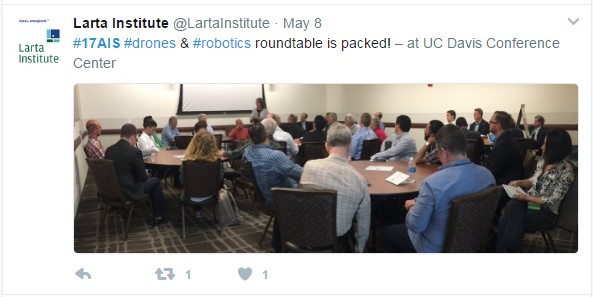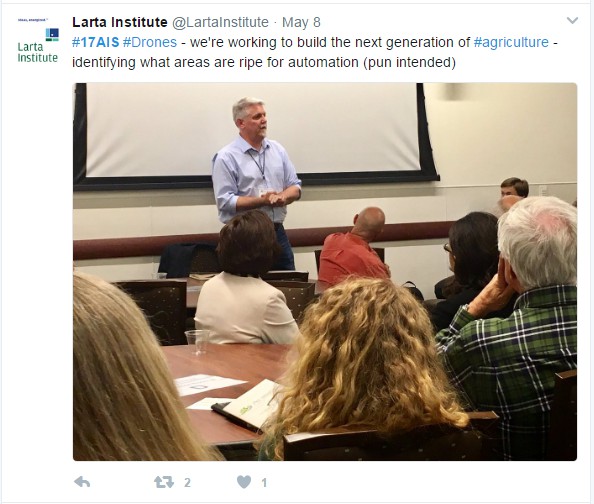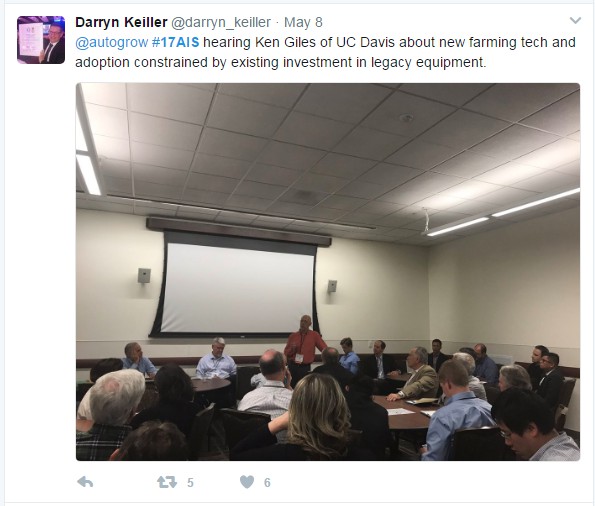 Day 2
Immigration & Innovation Keynote: Tom Nassif, Western Growers Association
Tom Nassif, keynote speaker, spoke on immigration legislation and labor shortages in the ag industry. Technology—through automation, drones, robots, and the like—can address farm problems arising from labor shortages.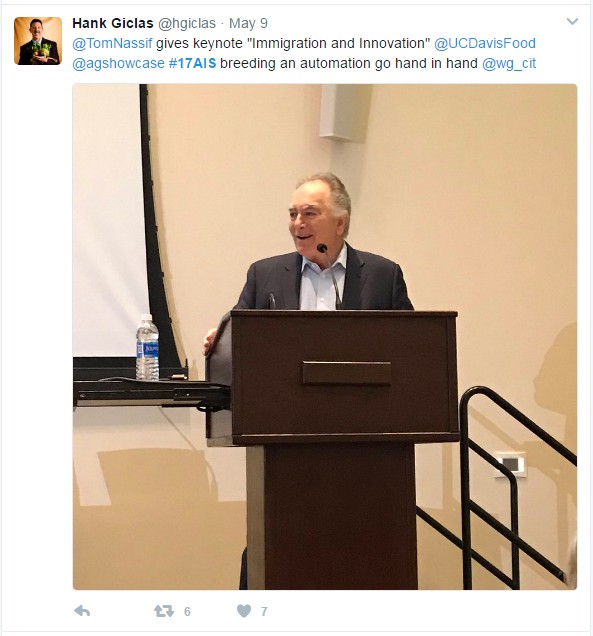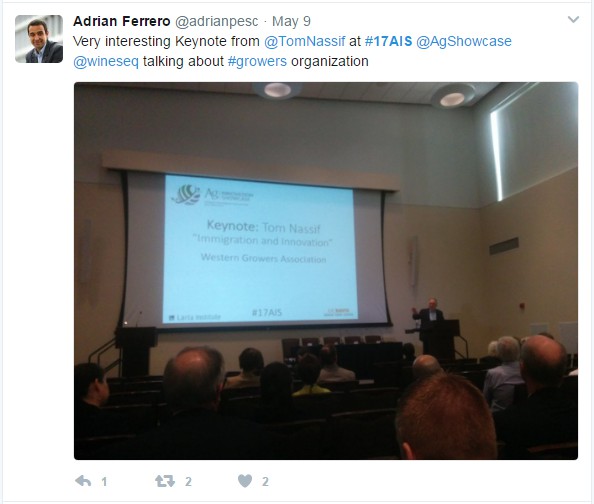 Company Showcase 2
Our day two cohort of company presenters covered the themes of AgBio Tech and Diagnostics. Building on day one, we were able to see innovations drawn from other industries that are now being utilized in ag.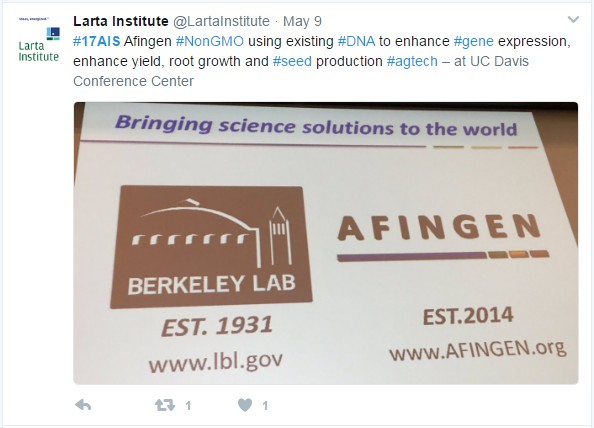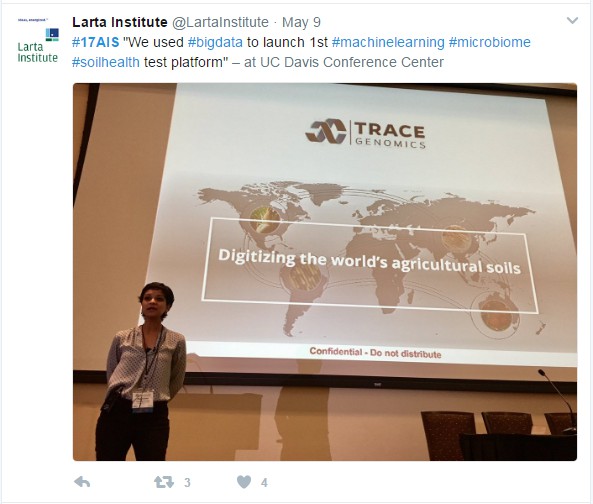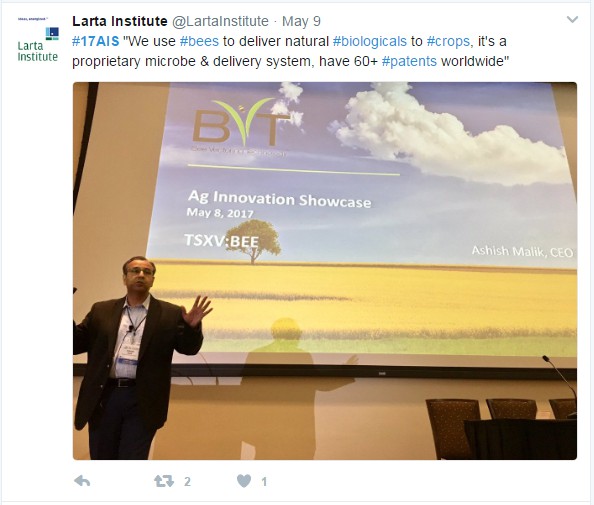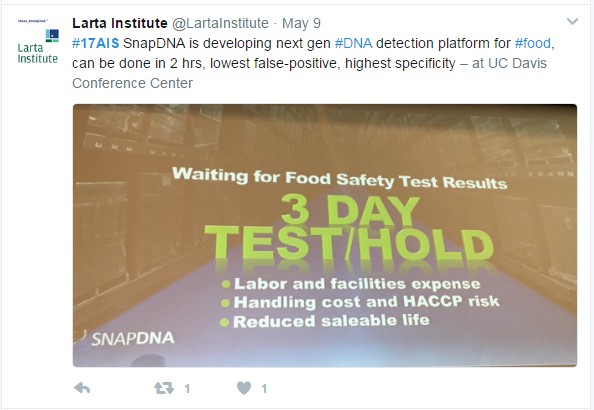 Panel: Nutrition & Food Quality
Our panel on Nutrition and Food Quality addressed consumer demands for transparency and healthy options as drivers for change in the supermarket industry.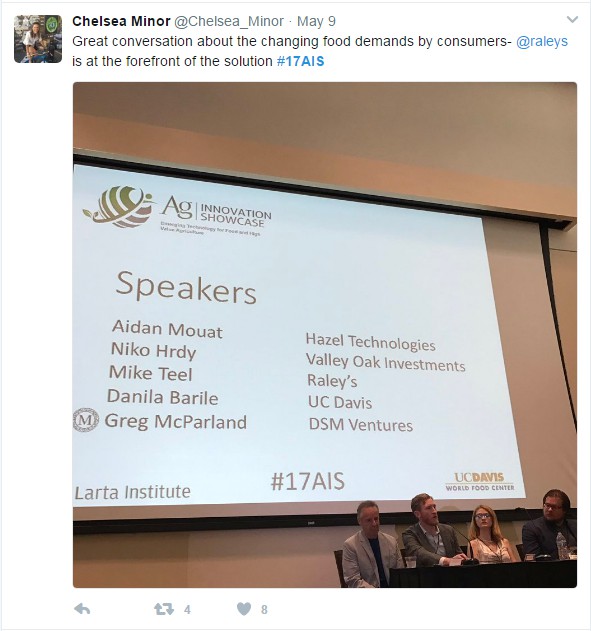 Panel: IoT on the Farm
Two-thirds of American farms are located in internet black holes with no network service. Our IoT on the Farm panel addressed the two driving forces behind IoT in ag: connection to the internet and the innovation of IoT devices themselves.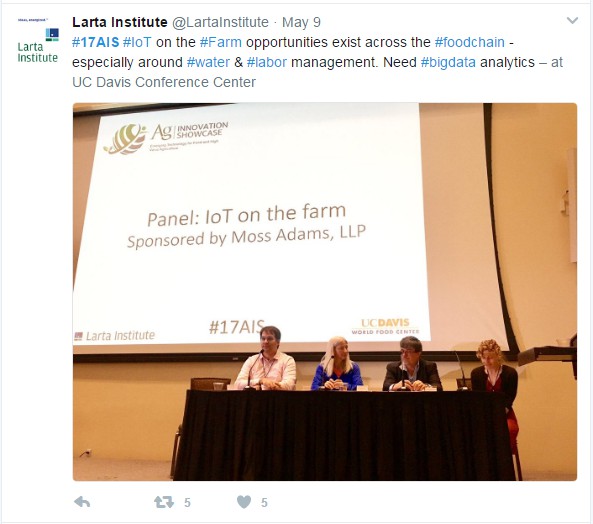 Awards
Two prizes were up for grabs at the 2017 Ag Innovation Showcase at UC Davis. The People's Choice award was based on live polling from our conference attendees. The Ideas Energized award was selected from a panel of judges. The parameters for the companies selected were innovativeness, commercial potential, disruptive potential, and how well the company presented, overall.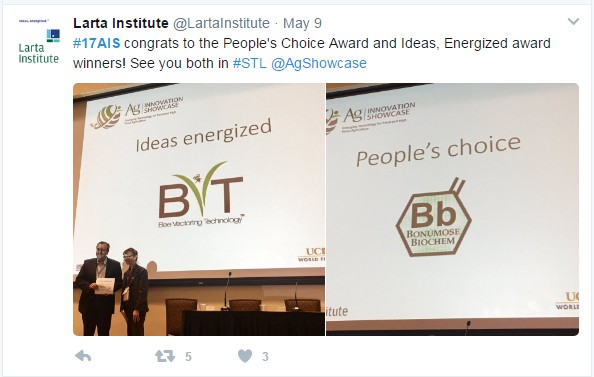 The Team
This team made our inaugural Ag Innovation Showcase at UC Davis possible! Many thanks to them for their hard work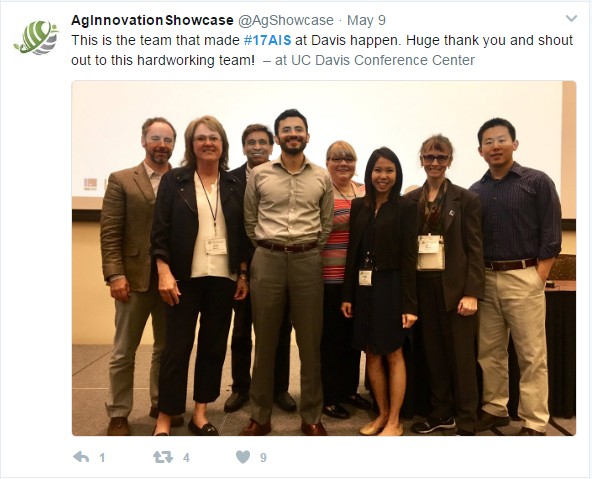 Closing
We look forward to seeing you next year!