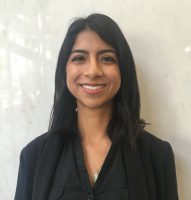 Larta would like to welcome its newest team member, Melissa Montalvo.
Melissa was hired in September as a Programs Associate for our Life Science Practice. She works in all aspects of planning, development, and execution of Larta's Commercialization Accelerator Program (CAP) with the National Institutes of Health, as well as the Principal Advisor Engagement Program.
Prior to joining Larta, Melissa was awarded a Fulbright English Teaching Assistantship Fellowship and spent a year teaching English at the Universidad Tecnológica de Jalisco, in Guadalajara, Jalisco, Mexico. In this role, she taught beginner through advanced conversation and language classes, prepared students for study abroad scholarship applications, and witnessed firsthand the importance of technology in elevating economic opportunities for people around the world.
Previously, she worked as a Development Associate at the Los Angeles Fund for Public Education where she was responsible for funder research, grant management, donor communications, as well as program research and development.
In her spare time, Melissa enjoys hiking canyons, mountains, volcanoes and hopes to hike the John Muir Trail! She also spends lots of time in the kitchen trying out new recipes.
Welcome Melissa!