NBD Nanotechnologies, Inc. is having a great year.
They entered 2015 on a high after being featured on their hometown TV station, Boston's WCVB, in late 2014. In January of 2015, Forbes named Deckard Sorensen, President of NBD Nanotechnologies, to their "30 under 30" list. In March, NBD won $750,000 in an NSF SBIR Phase II award for commercializing their enhanced condensation coating technology. They were also awarded an additional $150k by the Massachusetts Clean Energy Center InnovateMass Grant. And, they completed Larta's USDA Phase I commercialization program for their fog harvesting technology, which is in a pilot program in the foggy headlands of San Francisco.
The company, which develops bio-inspired coating technologies that enable durable liquid repellency, was founded in 2012. We've been watching them since they came through our NSF program in 2013. NBD Nano Technology draws inspiration from the Namib Desert Beetle, their namesake – Namib Beetle Design – and has been hitting it out of the park with surface technology. The desert beetle lives in the arid climate of Namibia, yet can capture 12% of its weight in water via fog collection every day on its hard shell surface.
The company has two coatings– one that repels water and one that attracts water. The one that attracts enhances condensation by 200%. The uses for both products are limitless.
Oh, and how cool is this? National Science Foundation – Ride of the Water Droplets
Buzzfeed Article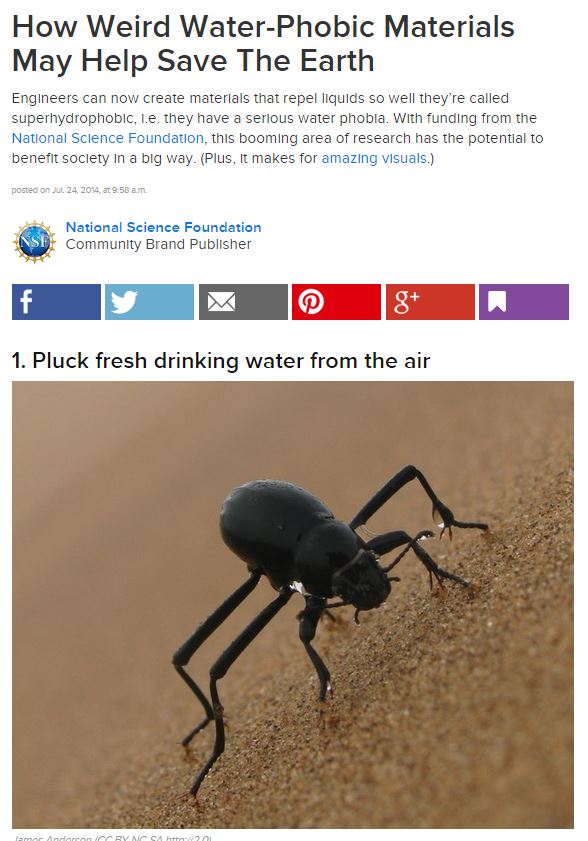 Enhanced Condensation
Non-Wetting Coatings