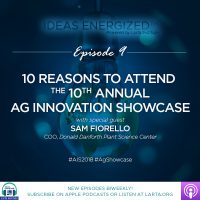 Join Claire Kinlaw, director of the Ag Innovation Showcase, as she hosts a lightning round discussion with Rohit Shukla, CEO of Larta Institute, and Sam Fiorello, COO of The Donald Danforth Plant Science Center in St. Louis. They'll discuss 10 reasons to attend this year's 10th anniversary celebration of the Ag Innovation Showcase, including the emphasis on entrepreneurs, celebration of the vast food value chain and its consumer-led renaissance, and, of course, the power of innovation. Tickets to Ag Showcase 2018 are available in limited quantity at www.agshowcase.com.
ABOUT AG INNOVATION SHOWCASE
Ag Innovation Showcase features the best and boldest new innovations in Agriculture and Technology from all over the globe. These innovations are disrupting the food supply chain beginning with farm inputs and continuing through to consumers to create a sustainable food system that will produce nutrition to feed the planet. The 10th year event, September 10-12 at the Danforth Plant Science Center in St Louis, will curate discussions looking forward to emerging industry trends, present high-impact 'agrifood' innovations from around the world celebrating alumni from previous years and introducing new companies.
ABOUT LARTA INSTITUTE and IDEAS ENERGIZED
At Larta Institute, our mission is simple: support endeavors that feed, fuel, and heal the world. In addition to engaging our network model in order to assist the commercialization of new technology ideas, our media network, Ideas Energized, seeks to initiate broader conversations surrounding science, technology, the environment, and everything in between.
Ideas Energized is produced by Larta Institute's External Engagement Department